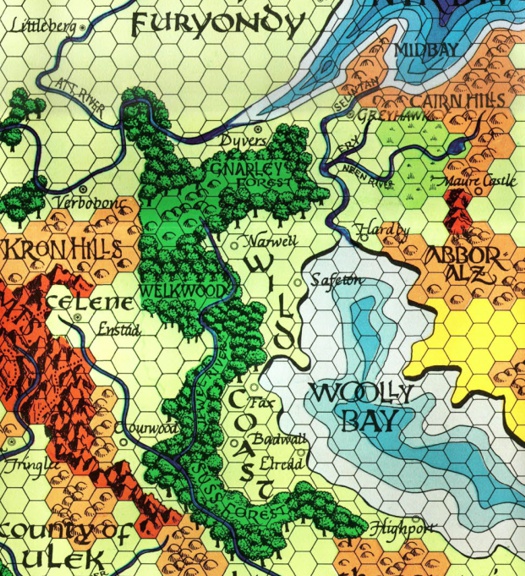 A Brief Introduction
Let's talk about someone else's dirty laundry. And the laundry is so dirty, ha!
Ladies and Gentlemen, I'm not the crotchety old D&D guy with a long white beard looking like a hippy reject expounding on the Good Old Days and claiming that AD&D is the final, be-all of RPGs and that everything that has come after is poo.
Because I love Pathfinder and D&D 5E. They done good. That's a whole separate blog post. Their websites aren't that great though. I could do a rant post about that—but I digress.
AD&D had a lot going for it, particularly the campaign setting of Greyhawk. I love Greyhawk. And it's stupid the amount of Greyhawk fanfic I've written that I will never sell to anybody because I have no license for the intellectual property. The AD&D Greyhawk boxed set had the killer map. It had two books. It had the timelines, political factions galore, gods and weather. Bad guys and good guys and people in between. A "state of the union" section. Bandits, elves, dwarven princes, knights in shinny armor. Greyhawk was one great big imagination fuel creation machine and if I didn't have such a burning desire to create my own worlds, the current campaign I am running would still be there today, after all these years.
Reading Between the TSR Lines
Product historian Shannon Appelcline writes: "When Gygax was asked to create the World of Greyhawk product, he was somewhat surprised that other GMs weren't interested in creating their own worlds."
Well, as someone whose built a campaign world from scratch, I'm not surprised, heh-heh-heh. Its time consuming and prone to a world-building exercise failure point in what I call "Blending Failure." Blending raw creative juices, use recognizable or translatable troupes while staying fresh, plausible atmosphere and subsequent DM ease-of-use—these are all obtainable singularly but difficult to blend into a cohesive whole. The result of RPG world-building isn't simply entertainment, it's spurring and nurturing the imagination of a GM so he or she can tailor a world to the desires of players and GM alike.
Greyhawk wasn't just all the things. It was all the things made possible within the two books and the map!
Shannon goes on further (emphasis mine):
Over the years, TSR and Wizards have published a few more overviews of the portion of Oerth that was depicted in the World of Greyhawk: From the Ashes (1992), Greyhawk Player's Guide (1998), and the Living Greyhawk Gazetteer (2000).

However, when Gygax wrote that World of Greyhawk was "Volume III", he was imagining a larger world. At various times Frank Mentzer, Len Lakofka, and Francois Marcela-Froideval were each going to create one or more continents east of Oerik, while an Asian-influenced continent was planned for the west. Gygax imagined that there would eventually be "a real globe".

Though the lands depicted in World of Greyhawk have been detailed in the years since its publication, there has been almost no expansion beyond these lands of eastern Oerik — with the one major exception being the Sundered Empire that Chris Pramas designed for the Chainmail Miniatures Game (2001), which lies in western Oerik.
Translation: Gary Gygax lost control of TSR, and the resultant product mangers there, and then at Wizards, fucked it up. They lost sight of the Great Greyhawk Magic Number. In their attempt to broaden appeal, they pulled the rug from the setting. Rather than expand it along Gygax's original vision for MOHR GREYHAWK, they did something—else.
Ignoring the Liberty of Imagination
Looking at From the Ashes and Greyhawk Wars though Shannon's historical product sleuthing lens it becomes clear how TSR went to shit and had to be bought out by Wizards of the Coast.
These are not bad products. From the Ashes spurred on some good stuff: Iuz the Evil and The Marklands, the unofficial released Ivid the Undying However, taken as a whole, it took the idea that a published campaign world is a imagination engine for the GM and tossed it in the trash.
And how did they do that? Instead of adhering to that grand vision of globe description, TSR simply advanced the clock. Instead of this:
However, when Gygax wrote that World of Greyhawk was "Volume III", he was imagining a larger world. At various times Frank Mentzer, Len Lakofka, and Francois Marcela-Froideval were each going to create one or more continents east of Oerik, while an Asian-influenced continent was planned for the west. Gygax imagined that there would eventually be "a real globe".
They went:
Tick.
The Tick of (reverb) DOOOOOOOOOOOOOOOM (reverb) !
Welcome to Someone Else's Campaign
TSR advanced the Greyhawk campaign clock.
Yeah, yeah, yeah. I know Gary Gygax would write in Dragon Magazine about current events in Greyhawk. I read them. In my subscription to Dragon Mag. That's not the sheer folly I'm talking about. That's a convo between DMs about campaigns.
What I'm talking about is much deeper—changing the underlying foundation of a product's primary attribute, in this case, turning the DMs Imagination Crank to ELEVENTY.
I met this guy at GenCon. We were chatting and he said he used to dream about Greyhawk. Do you think we as talking about From the Ashes? No, he was talking about the world presented in the box set. He was talking about the Darlene maps. He was talking about a dungeon he built on the Wild Coast the Prince of Ulek sent the PCs to explore. He talked about how in the Temple of Elemental Evil, his players rescued Thrommel and united Veluna and Furyondy. He was talking about his campaign.
And as soon as TSR ticked the clock on him, it was someone else's campaign.
I played in Living Greyhawk and Living Blackmoor, and they were the ultimate in playing in someone else's campaign—but that was all on purpose. That was the intent. I decided this style of play wasn't for me, but it made me think mighty long about what happened to Greyhawk.
TSR would repeat the follow of ticking the clock on campaign worlds with the justification that to increment editions they needed some campaign world shake up.
And it never worked, because it never could work—the whole concept of a campaign world is one grand campaign world for heroic wish fulfillment with players and a GM united in a glorious fantasy setting tailored to their needs and unique to their experiences. Action is character. A PCs real character history starts at Level 1. They change their world.
The Great Greyhawk Magic Number
The Great Greyhawk Magic Number is 576. That's where the campaign guide ends its timeline. That's when most DMs started their campaigns. And the entire campaign world is predicated on that one tiny number. 576. And it went like this:
The Prince's disappearance destroyed these plans, however, and brought about the current state of affairs in the Flanaess, which is confused indeed. Humankind is fragmented into isolationist realms, indifferent nations, evil lands, and states striving for good. The Baklunish countries in the northwest have grown in power. Nomads, bandits, and barbarians raid southward every spring and summer. Humanoid enclaves are strongly established and scattered throughout the continent, and wicked insanity rules in the Great Kingdom. The eventual result of all this cannot be foretold.
Much has been written and said about the fall of TSR into the hands of Wizards. Sure, the Blume Brothers and Williams fucked it up. That's the why.
The how is they didn't understand the players and the DMs. They didn't understand their customers and even what made their own earlier products outstanding achievements of creativity and the imagination. The sheer magnitude of how useful Greyhawk was to a DM. How some people would dream about that world.
And they went tick.
Griffon Lore Games Campaign Worlds
Our super module Curse of the Lost Memories is part of the Chronicles of the Celestial Chains Adventure Path. The AP is designed to plug-and-play into your own world (pick an undeveloped temperate place on your map and change the names to protect the guilty). We have a campaign world for the GM to use for a fresh start at something new and what we hope is wondrously hard fantasy. We have a stretch goal for Curse of the Lost Memories to furnish 100+ pages of it as The Kingdom of Lothmar Setting Guide.
Lothmar is just a part of the overall campaign world that we'll put into its own Kickstarter once we've gotten into the rhythm of shipping modules on the Chronicles of the Celestial Chains Adventure Path. And we plan to have the best campaign world on the market.
This is what you get when you back our Kickstarter—you get lead designers who understand 576. Back our upcoming Kickstarter to the hilt, because we've got plans and products and none of our shenanigans includes a number past The Great Greyhawk Magic Number of 576.
Best Regards,
Anthony